A digital display with patient turning and mobility information
The digital interface in the LEAF Patient Monitoring System shows you all the information collected from the sensor and allows you to customize a care plan for the patient. You can access it on the centralized display at the nurses' station or on any computer in the facility, including workstations on wheels.
---
At-a-glance patient turn reminders
The main screen is designed so you can easily see who needs to be turned next.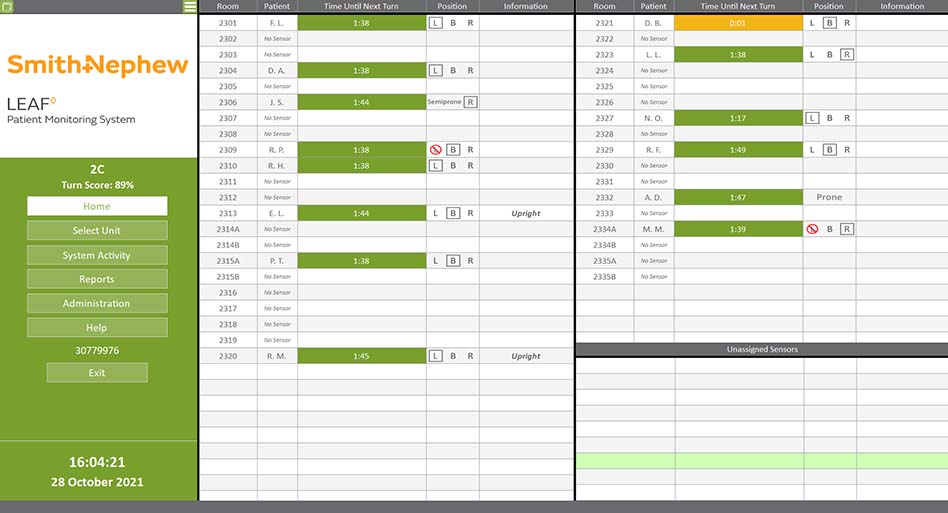 ---
Individual turn protocols for each patient
Some patients may need to be turned more frequently, or an existing wound may mean they can't lie on a certain side, or you may need to pause the schedule while the patient undergoes a procedure. The LEAF System is adjustable for all of these scenarios, so you can optimize protocols according to each patient's needs in line with the National Pressure Injury Advisory Panel (NPIAP) guidelines.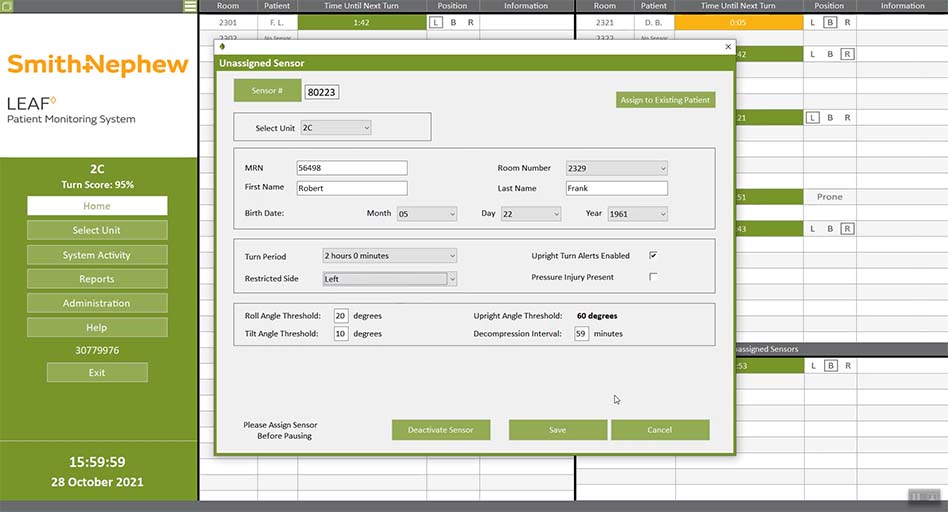 ---
Automatically adjusts for adequate tissue recovery time
The LEAF System uses the Integrated Positioning Technology™ to measure turn angle as well as turn frequency and tissue recovery time.8,9 So, for instance, after a patient turns themselves, the system will automatically adjust the time between each turn to achieve adequate tissue recovery time.
Detailed patient information
Access patient activity data.
Recent turn history shows patient position and length of time for the last 20 turns, helping ensure even pressure distribution and real-time documentation of turning compliance.
Upright history shows percentage of time the patient's head is in an upright position.
Ambulation history documents a patient's progress toward mobility goals; as soon as the patient gets out of bed, the LEAF System switches from monitoring turn protocol to monitoring steps taken, distance traveled, time spent ambulation and more.*
Detailed patient reports itemize mobility events for the patient's entire stay and are invaluable for root cause analysis.* More about reports.
*The LEAF System is not to be used to alert staff of situations that would require immediate action in order to maintain patient safety. Be aware that there is a possibility of ambulation/step detection inaccuracy. Some patient steps may not produce enough movement to be detected by the System. Conversely, some patient movement may resemble the movement associated with taking a step and therefore be recognized by the System as such.