Your team can count on ours
Smith+Nephew is here to support your nursing team through implementation of the LEAF Patient Monitoring System, from step-by-step guidance and tools for launch to the ongoing support the system is designed to provide.
Step-by-step implementation. We will walk you through every step of the LEAF System implementation with a comprehensive toolkit, including:
Checklists for preparation, training and launch
Posters to motivate your team and educate other staff and patients
Videos on applying and removing the sensor, interpreting the display, properly turning a patient and more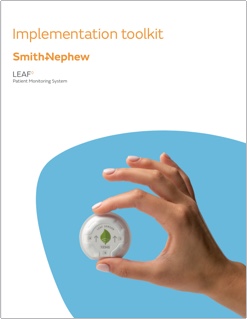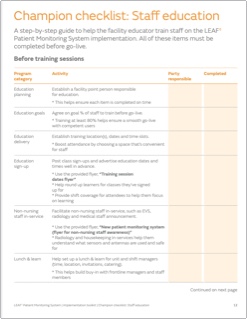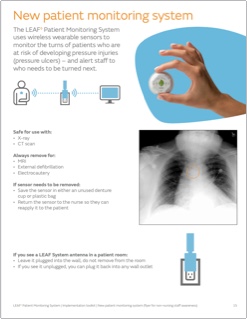 Sample pages from implementation toolkit. Click image to enlarge.
---
WATCH: How to use the LEAF System
---
A system designed to give your team continued support. Using the LEAF System has been shown to help improve traditional healthcare provider challenges of on-time care delivery, teamwork, workflow prioritization and documentation relating to patient turning.2,6,7,10 In fact, 87% of nursing staff surveyed felt the LEAF System was helpful, saying it helped prioritize patient care and avoid unnecessary tasks in an acute setting.1